By Stephanie Monk, St George's blogger.
Whether you're jetting off to sunnier climates, or staycationing in the UK, St George's Shopping Centre has your summer holiday needs covered. Here's an array of must-have pieces to pack your suitcase with.
Destination inspiration
If you're still undecided on where to spend your holiday break this year, head to WHSmith where you'll find a plethora of travel guides for inspiration. From Mexico to London, the Lake District to Egypt, you're sure to find somewhere that takes your fancy.
Pack for every eventuality
Superdrug has all the travel essentials you need for a holiday. Forgot your insect repellant and been bitten to shreds? We've all been there. Head to the store for a variety of travel essentials including fly spray, plug adapters and those all-important ear plugs, eye masks and flight pillows to get you through the plane journey.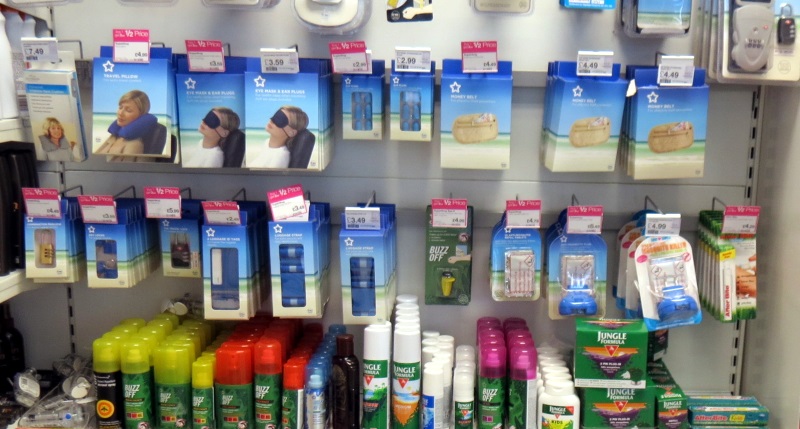 In Superdrug you'll also find a number of deals on sun creams for every skin type, covering low to high factors, so you can protect your skin from the sun and prevent premature ageing.
Summer styling
Summer has arrived, so it's time to put your jeans and sweatshirts to one side and update your look with some new summer staples. Don't know where to start? St George's Shopping Centre has a wide range of fashion retailers, making it easy for you to find the perfect holiday outfit and stay on trend this summer.
Whether you're lazing on an exotic beach, chilling at a BBQ with friends, or adventuring in the Lake District, New Look, River Island and Miss Selfridge have plenty of choice for a variety of holiday destinations.
New Look has a whole section dedicated to summer holiday clothes, accessories and swimwear for adults and children too, so if you're jetting off into the sunshine with your children, you can save time and shop for the both of you at once.
While sun cream is usually top of the list, we often forget the need to protect our eyes. Head to New Look where you can pick up sunglasses from as cheap as £5. There's colours, shapes and sizes to suit most styles.
Over at River Island there's a variation of bikinis, summer clothing and accessories, including these bikini sets, ranging from £20 to £30 for the bikini top, and £15 to £20 for bikini bottoms.
If you've got limited luggage allowance, the store also has a host of roomy yet fashionable bags to use on the plane, with plenty of space to use at the beach too.
Skin rescue
The sun can take its toll on our bodies. A mixture of strong rays and chlorine filled water can cause damage to hair, while drying out the skin too.
Head to The Body Shop where you'll find a range of deeply moisturising conditioners and hair masks, as well as body lotions to deeply soothe any burnt or scaly skin. There's a vast array of scents to suit even the fussiest of noses.
Whatever your holiday needs, St George's Shopping Centre has you covered.